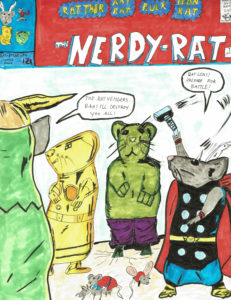 Liz and Matt talk cautionary rat advice, The Princess Bride, It and gaming.
Ratty Topics – We give foster rat updates, talk about baby rat Dawn moving into the big cage, and unspayed rat Krysa's mammary tumor surgery. Also, we stopped using the Snak Shak – a loyal listener alerted us that it is toxic if rats ingest it. We also offer some tips to prevent your rats from biting.
7 popular rat products you didn't know were dangerous
Local Animal News – Poplar Springs Animal Sanctuary's upcoming Open House is on Sunday, October 1, 2017.
Poplar Springs Animal Sanctuary
Nerdy Topics – We saw Cary Elwes live at a 30th Anniversary screening of The Princess Bride. On a darker note, Matt discusses the new movie It. Liz and Matt discuss what movie they can compromise on for Halloween since Liz doesn't like true horror but will watch zombies, some vampires, and classic (hilarious) horror or Mystery Science Theater. We wonder if Count Gore De Vol will be doing some monster movie screenings this month at the AFI Silver in Silver Spring.
In gaming, Gardenscapes has a new companion app game called Homescapes, where Austin the butler renovates his parents' dilapidated mansion. And, Matt has been playing League of Legends again with his friends.
Matt's Extra Life stream is coming up the last weekend of October! For every dollar you donate (100% of which supports the DC Children's Hospital patient care fund), you can request that Matt play 1 minute of any game you choose (that is free or that he currently owns.) Last year his mom made him play Candy Crush for an hour.
If you enjoy our podcast, please consider supporting our two favorite charities.
Small Angels Rescue, Inc., is a Frederick County, MD based 501(c)(3) non-profit, no-kill, all-volunteer organization dedicated to rescuing and re-homing gerbils, guinea pigs, hamsters, mice, and rats.
Extra Life unites thousands of players around the world in a 24 hour gaming marathon to support Children's Miracle Network Hospitals.
Email us questions and feedback at thenerdyrat@gmail.com !
Podcast: Play in new window | Download
Subscribe: Apple Podcasts | Android | RSS