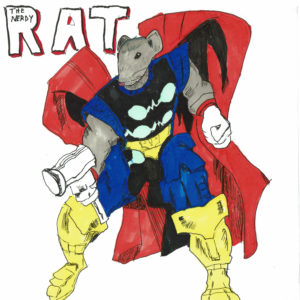 Mat and Liz talk Thor: Ragnarok, foster rats, DC Eagles and more.
Ratty Topics – Our new foster rat Nova is sweet one minute and chomps on us the next – but only to show her affection. Kind of like a certain Loki who we loved in Thor: Ragnarok. "I hate you! Now I love you! Now I hate you again!" Only Nova doesn't hate us, she just…bites. Some of it might be cage aggression, some might be because she has limited vision due to cataracts on both eyes, and some is just because biting is how she says "I love you."
We got our own baby rat Dawn spayed this week – please spay your baby girl rats before they reach either 6 months or one year of age. It prevents future mammary tumors, extending their life and their quality of life and minimizing your future vet bills or heartbreak.
Local Animal News – The Washington DC Eagles are back on the eagle cams lovingly building their nest. We have a link to a great video of them adding a stick.
Etsy Shop –  Liz has bonding pouches and hammock sets for sale. Gift wrap is available so drop hints to your loved ones!
Nerdy Topics – We review Thor: Ragnarok – overall, we loved it! It reminded us of What We Do In The Shadows (no surprise, since it's the same director).
Matt discusses how EA ruined the Star Wars Battlefront game with lootboxes, resulting in the most downvoted Reddit comment ever.
EA has the most downvoted reddit comment ever
From Blizzcon news, classic (legal) WOW servers are announced as a future project and also a new World of Warcraft expansion – Battle for Azeroth. 
If you like our podcast, please consider supporting our two favorite charities.
Small Angels Rescue, Inc., is a Frederick County, MD based 501(c)(3) non-profit, no-kill, all-volunteer organization dedicated to rescuing and re-homing gerbils, guinea pigs, hamsters, mice, and rats.
Extra Life unites thousands of players around the world in a 24 hour gaming marathon to support Children's Miracle Network Hospitals.
Email us questions and feedback at thenerdyrat@gmail.com !
Podcast: Play in new window | Download
Subscribe: Apple Podcasts | Android | RSS