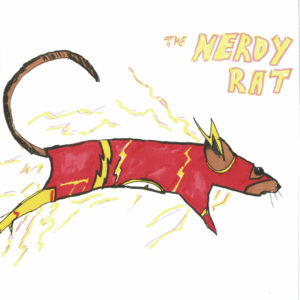 Matt and Liz talk about new foster rats, lots of local animal news, Jumanji, The Flash, and more.
Ratty Topics – We have four new foster rats, all boys and bonded brothers. We'd really like them to be adopted out together, so if you live in the DC/MD/VA area and can give them a forever home, please contact Small Angels Rescue! They are super sweet and easy to handle – great for first time rat owners and we are offering a bonus accessory package if you adopt all four.
Liz's heart rat, Toro, is becoming an older rat and he has some overgrown teeth. Rats' teeth can separate as they age and then they aren't able to grind them down themselves. He has an appointment with the vet to get his teeth trimmed down. Never attempt to trim rat teeth yourself – pieces can easily get lodged in their throat if your rat squirms and kill them. Pay an experienced vet to do it safely!
Local Animal News – The Washington DC Eagle Cam Watchers are having a Facebook contest to guess when the first eagle egg will be laid! You can vote here.
The Baltimore Aquarium is finally committing to re-home their captive dolphins and end the dolphin shows going forward. The Cove is a disturbing documentary that reveals the horrible ways that most aquarium-owned dolphins are captured (lots of collateral dolphin death is involved) so we are really glad that our local aquarium is finally doing the right thing.
News article on the Baltimore Aquarium's dolphin re-homing program
Charm Kitty Cafe is OPEN in Baltimore, MD! We will have to visit and review it for you! Also, we learned that there is a cat cafe in DC – Crumbs and Whiskers. How did we not know about these tiny nirvanas? Sounds like the perfect date night to us!
For more news about cat cafes, check out podcast Episode 10. 
Nerdy Topics – Liz and Matt finally saw Jumanji – and we loved it! We also talk about the current season of The Flash and Agents of SHIELD.
In gaming news, Stardew Valley mentions some progress on 4-player cooperative mode and World of Warcraft offers a pre-sale for the new expansion along with some new Allied races that you can play while you're waiting for the expansion to drop.
News article on Stardew Valley
If you enjoy our podcast, please consider supporting our two favorite charities.
Small Angels Rescue, Inc., is a Frederick County, MD based 501(c)(3) non-profit, no-kill, all-volunteer organization dedicated to rescuing and re-homing gerbils, guinea pigs, hamsters, mice, and rats.
Extra Life unites thousands of players around the world in a 24 hour gaming marathon to support Children's Miracle Network Hospitals.
Email us questions and feedback at thenerdyrat@gmail.com !
Podcast: Play in new window | Download
Subscribe: Apple Podcasts | Android | RSS