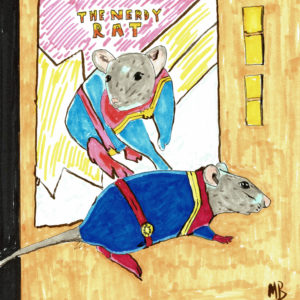 Matt and Liz talk about Star Wars: The Last Jedi, what to do with choking rats (and how to prevent it), and more.
Ratty Topics – What causes choking in rats? For Toro, unfortunately, it was old dried bread. Dry bread expands and gets too sticky. We talk about what to do if a rat is choking and what foods can cause a rat to choke (dried bread and peanut butter).
Also, we have a new hairless rat as a foster. She has a lot of cysts and pimples. This is typical for hairless but one cyst burst and became infected. We talk about special health issues to watch out for with hairless rats.
Etsy Shop – Would you like a handmade-by-Liz rat bonding pouch or set of rat hammocks? Check out TheNerdyRat Etsy shop!
Nerdy Topics – We saw the classic Christmas movie of all time, Die Hard, at the AFI Silver Spring Theatre. And we have lots to say about Star Wars: The Last Jedi. Kylo Ren, Rey, Reylo, fanfiction, we cover it all.
We're also loving the current season of Agents of SHIELD and Matt is excited for MegaMan 11 coming out soon. And hey, maybe the Disney acquisition of Fox studios will give us Deadpool and Hugh Jackman's Wolverine in the Avengers universe!
We'll be watching the Doctor Who Christmas Special tonight, so look forward to our review next episode. We'd like to see Jumanji in the coming week, too, so hopefully we'll have that to review next episode as well.
Mega Man 11 Announced
Disney Fox Merger
If you like our podcast, please consider supporting our two favorite charities.
Small Angels Rescue, Inc., is a Frederick County, MD based 501(c)(3) non-profit, no-kill, all-volunteer organization dedicated to rescuing and re-homing gerbils, guinea pigs, hamsters, mice, and rats.
Extra Life unites thousands of players around the world in a 24 hour gaming marathon to support Children's Miracle Network Hospitals.
Email us questions and feedback at thenerdyrat@gmail.com !
Podcast: Play in new window | Download
Subscribe: Apple Podcasts | Android | RSS