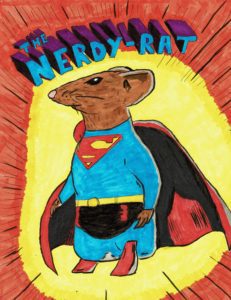 Matt and Liz talk about the long awaited Justice League movie, our foster rats, the end of the Marvel Heroes game, and more.
Ratty Topics – We are concerned about some new foster boys who are underweight and don't seem to be eating. We will be taking them to the vet this week for a check-up. Our PEW foster girls need a forever parent who's tolerant of getting chomped on and bitten while being smothered with ratty love. And, our own rats are upset that we loaned one of their wheels to the fosters.
Local Animal News – the DC eagles continue rebuilding their nest in preparation for some new babies. And speaking of babies, Bei Bei the (toddler) baby panda at the National Zoo had some stomach issues this week, but he's ok now.
DC Eagle cam video – nest building
Nerdy Topics –  The online game Marvel Heroes shut down after laying off employees the day before Thanksgiving. Boo, hiss! Liz figured out (i.e. googled) how to beat the desert maze in the RPG Legionwood: Tale of the Two Swords. And, we have a LOT to say about the new Justice League movie. Including what we think of that Amazon warrior costuming controversy. Finally, we discuss our hopes (based on a twitter hashtag) for an animated Justice League movie!
Marvel Heroes layoffs – news article
Legionwood: Tale of the Two Swords
Justice Leage – Amazon costumes controversy
Animated Justice League reunion?
If you like our podcast, please consider supporting our two favorite charities.
Small Angels Rescue, Inc., is a Frederick County, MD based 501(c)(3) non-profit, no-kill, all-volunteer organization dedicated to rescuing and re-homing gerbils, guinea pigs, hamsters, mice, and rats.
Extra Life unites thousands of players around the world in a 24 hour gaming marathon to support Children's Miracle Network Hospitals.
Email us questions and feedback at thenerdyrat@gmail.com !
Podcast: Play in new window | Download
Subscribe: Apple Podcasts | Android | RSS