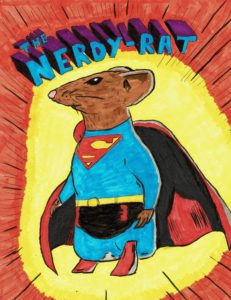 Liz and Matt talk about dealing with pregnant rats, baby rats, and unexpected rat babies, baby eagles in Washington, DC, Supergirl, Doctor Who, Transformers 5, video games and more.
DC Eagle Cam
Summer Games Done Quick starts July 2
Dead Cells on Steam
Don't Pre-order Battlefront 2
Nintendo announces and discontinues to the SNES Mini
If you like our podcast, please consider supporting our two favorite charities.
Small Angels Rescue, Inc., is a Frederick County, MD based 501(c)(3) non-profit, no-kill, all-volunteer organization dedicated to rescuing and re-homing gerbils, guinea pigs, hamsters, mice, and rats.
Extra Life unites thousands of players around the world in a 24 hour gaming marathon to support Children's Miracle Network Hospitals.
Email us questions and feedback at thenerdyrat@gmail.com !
Podcast: Play in new window | Download
Subscribe: Apple Podcasts | Android | RSS