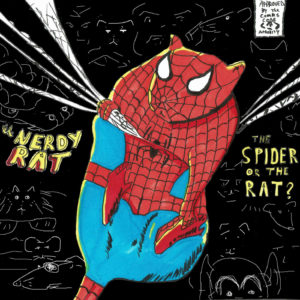 Liz and Matt talk about pink eyed whites (PEWs), our new fosters, and Spider-man Homecoming.
Ratty Topics – What's the deal with those albino rats? Pink-eyed whites have a few special characteristics besides their coloring. Have you ever seen your rats scoot up sideways to each other, crouching down low? That's a submissive pose. We talk about why Pinky did that to Fieval.
Local Animal News – A young bald eagle was found injured in the DC area and taken to a rescue rehabilitation center. Was it one of the DC eagle babies from last year? Also, the DC Eagle Cam is raising money for new cameras. Please help them out!
DC bald eagle saved
Raising money for new DC eagle cam
Nerdy Topics – Joan Lee, wife of Marvel Comics Creator Stan Lee, passed away. They had been married for almost 70 years! What a love story. Speaking of love, we loved Spider-Man: Homecoming and we'll tell you why. We were less enamored with this season's Supergirl finale. But we re-watched Aliens which was a lot of fun.
Very nice article about Joan Lee (wife of Stan Lee) who passed away
If you enjoy our podcast, please consider supporting our two favorite charities.
Small Angels Rescue, Inc., is a Frederick County, MD based 501(c)(3) non-profit, no-kill, all-volunteer organization dedicated to rescuing and re-homing gerbils, guinea pigs, hamsters, mice, and rats.
Extra Life unites thousands of players around the world in a 24 hour gaming marathon to support Children's Miracle Network Hospitals.
Email us questions and feedback at thenerdyrat@gmail.com !
Podcast: Play in new window | Download
Subscribe: Apple Podcasts | Android | RSS