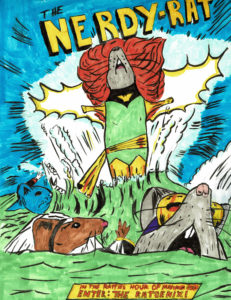 Liz and Matt talk about new foster rats and bonding pouches and why they're great (check out Liz's Etsy shop). Also, we discuss sprains in rats and bumblefoot (and what causes sprained feet – don't put Dollar Store plastic Halloween baskets in your cage!).
In other animal news we discuss local Facebook hero Otis T. Squeaks (a stuffed hippo) and a hotel which offers pet goldfish for your stay.
For nerdy topics we talk about the new Castlevania Netflix series, a clown-only screening of the movie It, and Rick and Morty.
Under gaming we review Gardenscapes, Magic Jigsaw Puzzles, Ziggurat, and Destiny 2.
Magic the Gathering: Arena
Clown only showing of It
Hotel offering goldfish services
Small Angels Rescue, Inc., is a Frederick County, MD based 501(c)(3) non-profit, no-kill, all-volunteer organization dedicated to rescuing and re-homing gerbils, guinea pigs, hamsters, mice, and rats.
Extra Life unites thousands of players around the world in a 24 hour gaming marathon to support Children's Miracle Network Hospitals.
Email us questions and feedback at thenerdyrat@gmail.com !
Podcast: Play in new window | Download
Subscribe: Apple Podcasts | Android | RSS