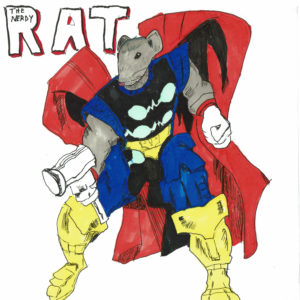 Liz and Matt talk about Blade Runner 2049, SNES Mini, and more.
Ratty Topics –  We talk about how our little baby girl Dawn is fitting in and who's protecting her in the cage when Pinky got a little aggressive.
Have you ever seen little scabs on your rats and not known what they were? Chances are your rats have mites. We talk about how Cat Revolution is the best treatment for mites, where to obtain it, and how to apply it.
Local Animal News – the two Washington, DC bald eagles have returned to their nest from their summer hiatus! Can we expect another batch of babies soon?
Nerdy Topics – There's a new goose stealth game due for release in 2018 which looks amazing. It doesn't have a title yet, but we'll be sure to keep you updated on new developments. Also in gaming, we created a Nerdy Rat Steam group! We hope to see you there!
And of course, we share our lack of enthusiasm over Blade Runnner 2049 (spoiler – we weren't impressed!)
Un-named Goose stealth game
The Nerdy Rat Steam Group
Star Wars Battlefront Loot box article
If you enjoy our podcast, please consider supporting our two favorite charities.
Small Angels Rescue, Inc., is a Frederick County, MD based 501(c)(3) non-profit, no-kill, all-volunteer organization dedicated to rescuing and re-homing gerbils, guinea pigs, hamsters, mice, and rats.
Extra Life unites thousands of players around the world in a 24 hour gaming marathon to support Children's Miracle Network Hospitals.
Email us questions and feedback at thenerdyrat@gmail.com !
Podcast: Play in new window | Download
Subscribe: Apple Podcasts | Android | RSS