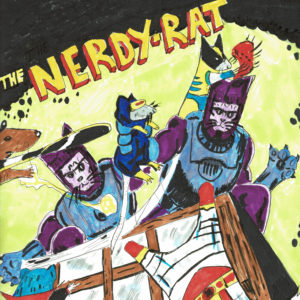 It's Halloween on The Nerdy Rat! Liz and Matt talk about their favorite Halloween movies, Ikea's new pet line, Flash Season 4, and more.
Ratty Topics –  We share updates about fosters and share our sadness that we had to put our beloved rattie Krysa down due to congestive heart failure and mammary tumors.
Local Animal News –  IKEA releases a new line of pet items. Also, good news for rat lovers – Washington, DC is one of the nation's most rat-infested cities!
Ikea releases a line of pet items
DC is one of the country's most rat infested cities.
Nerdy Topics – We talk about Halloween bonuses in our current games – a decor pack for Gardenscapes and a very elusive headless horseman mount for World of Warcraft.
What are some of our favorite Halloween movies? Classic Universal, the Christopher Lee Dracula series, Goosebumps with Jack Black, and of course the classics – Halloween, Living Dead, Friday the 13th, and Nightmare on Elm Street. We are attending a live appearance by Count Gore de Vol at the AFI Silver Spring this weekend for a werewolf double feature with I Was a Teenage Werewolf and American Werewolf in London, so tune in next episode for our reviews.
Also, Matt's Extra Life stream is this weekend which benefits our Washington, DC Children's Hospital. All donations go directly to patient care so please support this great cause!
If you like our podcast, please consider supporting our two favorite charities.
Small Angels Rescue, Inc., is a Frederick County, MD based 501(c)(3) non-profit, no-kill, all-volunteer organization dedicated to rescuing and re-homing gerbils, guinea pigs, hamsters, mice, and rats.
Extra Life unites thousands of players around the world in a 24 hour gaming marathon to support Children's Miracle Network Hospitals.
Email us questions and feedback at thenerdyrat@gmail.com !
Podcast: Play in new window | Download
Subscribe: Apple Podcasts | Android | RSS